Double Moon: Constructions & Conversations
by Margo Klass and Frank Soos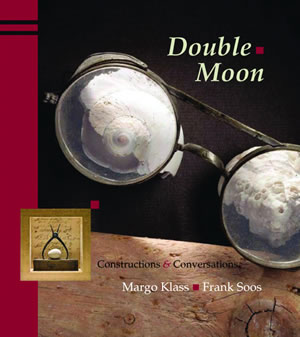 Publication 2009
$19.95 / soft cover
xvi, 68 pages / 8.5 x 7.5 in.
ISBN: 9781597091411
Art / Poetry
www.borealbooks.org

At the heart of this book is the complex interplay between two spirited minds. Each of Margo Klass's box constructions is an invitation to enter among objects in space and make of them what one might. Frank Soos has taken up that invitation. Margo's constructions and Frank's responses talk to each other, sometimes agreeably, sometimes ironically, sometimes earnestly, and sometimes flippantly. This collection represents a sample of five years of their aesthetic sparring. Whoever picks up this book is invited to play along.
---
Lives of the Saints: Contemporary Icons and Reliquaries
Margo Klass and Frank Soos
Printed 2009
$20.00 includes shipping (first class) within US
For purchase information contact Margo Klass

This self-published artist book features a series of box constructions inspired by the medieval icons and reliquaries. They speak to the foibles and obsessions of contemporary culture while retaining the contemplative aspects of their historical counterparts. Accompanying the boxes are legends by writer Frank Soos. His miniature essays may be philosophic, whimsical, ironic or humorous, but remain relevant to the collective consciousness of contemporary life.