Artist Statement
My mixed-media box constructions represent imaginary retreats, destinations of the mind where I arrange my visual world. Within the boxes are compositions of found objects – old tools, discarded game pieces, twigs, rocks. They are my medium and I seek them out everywhere I go, on the beach, in the woods, and especially in junk shops. I arrange them intuitively to create compositions and then surround them with box-like structures to define their architectural spaces. The images that result are personal reflections of the kind of aesthetic solitude that has always been important to me.
In my 30s I became a serious book artist and internalized the meticulous craftsmanship that bookbinding demands. The tools, materials, techniques, and skills of bookbinding are still the foundations of my artistic process. A workshop on architectural books introduced me to three-dimensional structures and eventually led to my altarpiece constructions. These multi-chambered box constructions are influenced in form and composition by an earlier study of medieval altarpieces. Because they open like a book and because their spaces are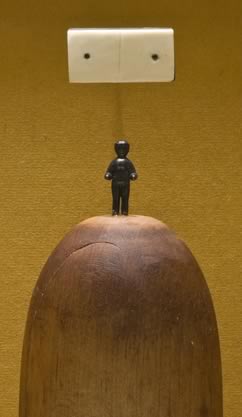 manipulated like pages, I often exhibit them as artist's books.
Most often my images are composed within single-chambered boxes that hang on the wall. They are constructed of heavy-duty display board and covered with handmade Japanese papers. Light enters their interior spaces through window and skylight openings most often covered with mica. Many of my box constructions have personal narrative content, such as a lost love, homage to a friend, or a fishing expedition. Others are purely abstract, directly inspired by travel in Japan and study of Japanese aesthetics found in temple design, the architecture of Tadeo Ando, or the photography of Hiroshi Sugimoto. Interior Alaska and Downeast Maine have inspired their own series of boxes, each relating a deep connection to their respective landscape, space, light, and color. With all of my boxes, I strive for intimacy, contemplation, and stillness in time and place.
Miniature essays by writer Frank Soos accompany many of my earlier constructions. From 2004 through 2010 Frank and I collaborated in this exploration of space, form, and words. The process began with my completed box to which Frank responded with his own images and metaphors. Double Moon: Constructions & Conversations, published by Boreal Books, is a result of this interplay between art and text.
I maintain studios in Fairbanks, Alaska and Corea, Maine.
---
Biography
Education
Ph.D., Bryn Mawr College, Bryn Mawr, PA
MA and MMP, University of Michigan, Ann Arbor, MI
BA, Purdue University, West Lafayette, IN
Other: Pyramid Atlantic (Silver Spring, MD), Penland School of Crafts (NC), Montgomery County College (MD), Torpedo Factory and Lee Arts Center (Arlington, VA), Paper Book Intensive (Haystack, Maine), University of Alaska Fairbanks
Solo Exhibitions
Proximity,
Anchorage Museum, Anchorage, AK, 2014
Time & Place: Images of Alaska,
Alaska House Gallery, Fairbanks, AK, 2012
An Alaskan Book of Hours,
Alaska State Museum, Juneau, AK, 2012
A Contemporary Book of Saints, with legends by Frank Soos,
Bunnell Street Gallery, Homer, and Kenai Peninsula College, Soldotna, AK, 2009-2010
Box Works,
Chapter Two, Corea, Maine, 2009
Lives of the Saints: Contemporary Icons, Reliquaries and Altarpieces, with texts by Frank Soos,
Alaska Pacific University, Anchorage, AK, 2009
Contemporary Icons, with texts by Frank Soos,
Chapter Two, Corea, Maine, 2008
Lives of the Saints: Contemporary Icons, Reliquaries and Altarpieces, with texts by Frank Soos, Well Street Art Gallery, Fairbanks, AK, 2008
Box Constructions, with texts by Frank Soos,
Fairbanks Arts Association, Fairbanks, AK, 2007
Box Constructions, with miniature essays by Frank Soos,
Alaska Pacific University, Anchorage, AK, 2007
Constructions by Margo Klass with Essays by Frank Soos,
Bunnell Street Gallery, Homer, AK, 2006
Quiet Spaces: Architectural Books and Boxes,
Kreeger Gallery, St. Andrew's Episcopal School, Potomac, MD, 2005
Box Constructions, with texts by Frank Soos,
Well Street Art Gallery, Fairbanks, AK, 2005
Constructed Images,
Lee Arts Center, Arlington, VA, 2004
States of Grace, With Prose Poems by Frank Soos,
The Dadian Gallery, Washington, DC, 2004
Selected Group Exhibitions
In Time of Change: Trophic Cascades,
Fairbanks Arts Association, Fairbanks, AK, 2013
Boreal Birch: Art and Science in the Northern Forest,
Pratt Museum, Homer, AK, et al., 2011-12
Earth, Fire, Fibre XXVIII,
Anchorage Museum, Anchorage, AK ,et al., 2011, 2013
Betula neoalaskana: Celebrating One Tree,
Well Street Art Gallery, Fairbanks, AK, 2011
In Time of Change: Envisioning the Future,
Fairbanks Arts Association, Fairbanks, AK, 2010
Interior Artisans XXV,
Fairbanks Arts Association, Fairbanks, AK, 2010, Honorable Mention
Earth, Fire & Fibre XXVII,
Anchorage Museum, Anchorage, AK, 2009, Juror's Choice Award
Juneau Arts and Humanities Council Annual Juried Arts Show,
Juneau, AK, June 2009, Honorable Mention
Northern Lights: Seven Contemporary Artists from Fairbanks, Alaska,
Fetherston Gallery, Seattle, WA, 2009
Reflections on Alaska Statehood,
Kenai Visitors and Cultural Center, Kenai, AK, 2009
Interior Artisans XXIV,
Fairbanks Arts Association, Fairbanks, AK, 2009, Juror's Choice Award
BeyondWORDS: Bookfest 2009,
Long Beach Island Foundation of the Arts and Sciences, Loveladies, NJ, 2009
Northern Disclosure: Acquisitions of Contemporary Art in the Museum of the North Fine Art Collections, 2005-2008,
Fairbanks Arts Association, Fairbanks, AK, 2008
Doll,
International Gallery of Contemporary Art, Anchorage, AK, 2008

All Alaska Juried Art Exhibition 2008,
Pratt Museum, Homer, AK, 2008
Countenance: Modern Masks of the North,
Well Street Art Gallery, Fairbanks, AK, 2009
Small Works,
Courthouse Gallery, Ellsworth, Maine, 2007
The Bones Show,
Well Street Gallery, Fairbanks, AK, 2007, Juror's Choice Award
Patterns of Influence 2007: Changing Times,
Fairbanks Arts Association, Fairbanks, AK, 2007
Alaska Women Artists,
Alaska House Gallery, Fairbanks, AK, 2006, 2007, 2008, 2009
Interior Artisans XXI,
Fairbanks Arts Association, Fairbanks, AK, 2006
21st Annual 64th Parallel Contemporary Fine Art Exhibition,
Fairbanks Arts Association, Fairbanks, AK, 2006, Juror's Choice Award

Fish Follies,
Cordova Museum and Historical Society, Cordova, AK, 2005, 2006
What Needs to be Retrieved: The Marriage of Tools, Art & History,
Davistown Museum, Liberty, ME, 2005
Beyond Reading,
Ellipse Arts Center, Arlington, VA, 2003
The Ebb and Flow of Nature, The 23rd Biennial Juried Exhibition,
Strathmore Hall Arts Center, Bethesda, MD, 2001
The 2001 Shrine & Altar Show,
Domont Studio Gallery, Indianapolis, IN, 2001
Looking Back, Moving Forward,
Ellipse Arts Center, Arlington, VA, 2000
Beyond the Fold: Artist's Books from Traditional to Cutting Edge,
Gallery of South Orange, South Orange, NJ, 1999
Bound to Happen,
Paul Mesaros Gallery, University of West Virginia, Morgantown, WV, 1998
Hand, Spirit, Invention,
Harper Collins Publishers, New York, NY, 1998
Milling Books: A Bushel and A Barrel,
Visual Arts Center, Frederick, MD, 1998
Book As Art VIII,
The National Museum of Women in the Arts, Washington, D.C., 1996
Artists' Books: New Boundaries,
Montgomery College, Takoma Park, MD, 1996
The Book As...,
Gallery 10, Washington, DC, 1995
RE-GENERATION,
Pyramid Atlantic, Riverdale, MD 1995
Books as Art,
Niagara Country Community College, Niagara Falls, NY, 1995
Out of Bounds,
Creative Arts Workshop, New Haven, CT, 1994
Milliseconds to Millennia: The Art of Time,
Center for the Craft Arts, Richmond, VA, et al., 1994-95
The Book: Through Artists' Eyes,
Mary Washington College, VA, 1993
Grants and Awards
Alaska State Council on the Arts, Career Opportunity Grants, 2011, 2014
Rasmuson Foundation Artist Award, 2008
Artist-in-Residence, Denali National Park, 2007
Fellowship, Virginia Center for the Creative Arts, 2002
Books

Double Moon: Constructions & Conversations, by Margo Klass and Frank Soos, Boreal Books (imprint of Red Hen Press), January 2009

Lives of the Saints: Contemporary Icons and Reliquaries, self-published, 2009
Teaching and Curatorial Experience
Adjunct Instructor, University of Alaska Fairbanks
Arts educator in Washington, DC area including 10 years as Chair of Art Department, Holton-Arms School, Bethesda, MD
Art curator in Washington DC (area galleries); Toledo Museum of Art, Toledo, OH
Public Collections

Pratt Museum, Homer, Alaska
University of Alaska Museum of the North, Fairbanks, Alaska
Anchorage Museum, Anchorage, Alaska
Rasmuson Library, University of Alaska, Fairbanks, Alaska
Denali National Park and Preserve
Wrangell Mountains Center, McCarthy, AK
Davistown Museum, Liberty, Maine